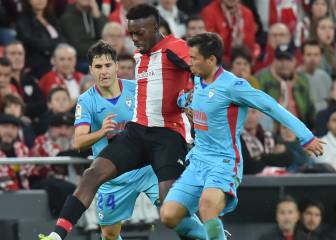 Unai Simon: This time he had almost no work except for a stop of shots that he blocked well placed. With the foot was not very well.
Layer: The portugalujo threw a dishonest punch. He participated in the goal annulled Cordoba and saw the fifth yellow that will prevent him from playing at the Bernabéu.
Yesterday: He used the patadón to clean the pumped balls over the area of ​​Unai Simón. Of course back.
Iñigo Martínez: He cleaned numerous balls in the shoe against Enrich and Kike García. Very frank.
Yuri Berchiche: Not doing as well as on other occasions, he did the race in the second half on some of his band's power actions.
Dani García: He swept balls and held a titanic fight against Escalante and Exposure.
Saint Joseph: He returned at eleven to cement the core in a game that was already brutally expected and competed.
Unai López: Low whole half a point. In the right wing, he played a few minutes, but without highlight.
Cordoba: He was sacrificed by Garitano at halftime for the fourth time this season to defeat Ibai Gomez. It wasn't the worst in your first semester job.
Williams: He started in a band, followed by 9 and ended again. He starred in the derby's best move with a two-cut ride and assisting Ibai Gómez, who did not end in a goal from Dmitrovic's experience.
Raúl García: He took advantage of an occasion with his forehead in the 85th minute, in a fight in which he swore like a jabato, but without more chances.
————————————————
Changes:
Ibai: He went to rest to drive on a set ball. He took advantage of the most transparent occasion of the game after Williams' assist and went straight to defense. He was annulled a goal with Correa for offside.
Villalibre: He played almost half an hour and hit some home runs. Tejero received a card to grab him.