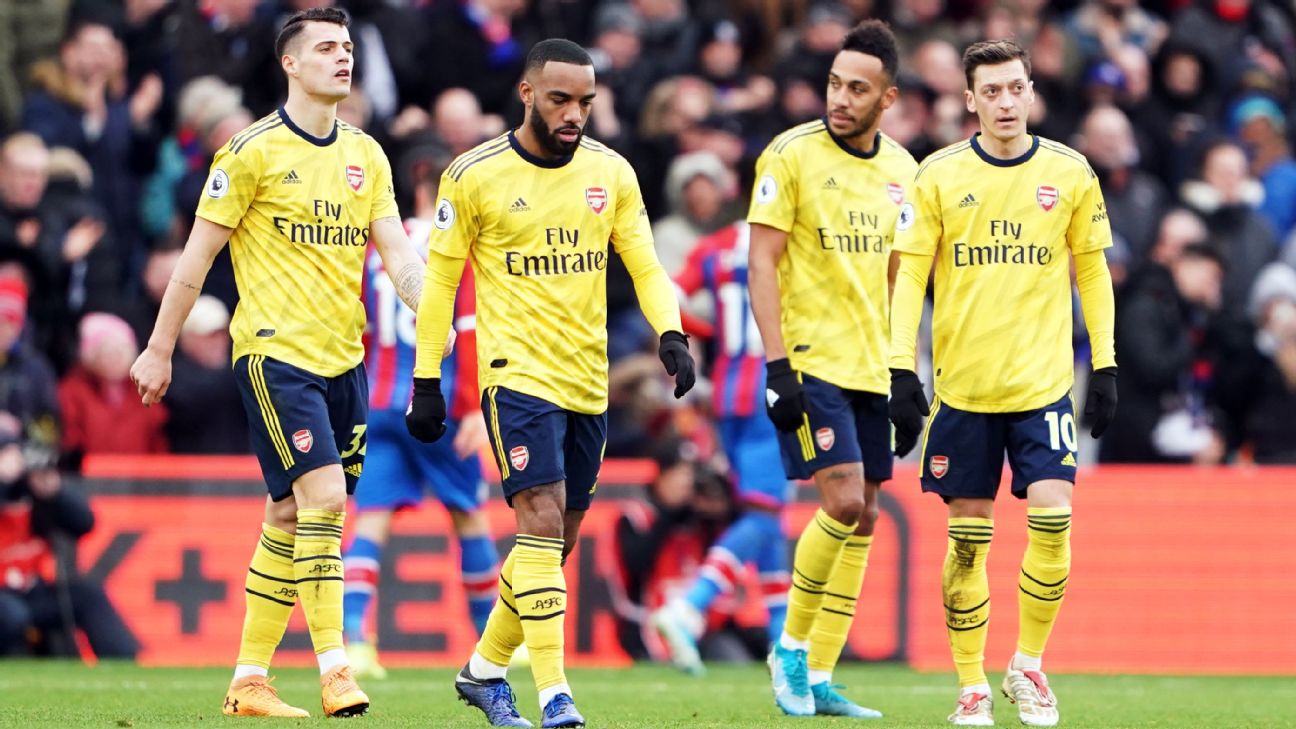 LONDON — Mikel Arteta is going to need some time. It's time to instill his style of play, time to fully impose his authority as a manager after years of playing and to be an assistant, time to do something about Arsenal's still erratic defence. But most importantly, it will need some time to eliminate Arsenal's ability for self-destruction.
For the first 30 minutes of their 1-1 draw with Crystal Palace on Saturday, Arsenal were great. Arteta's ostensibly bold choice to select his four great attacking talents seemed to pay off, as Alexandre Lacazette, Nicolas Pepe, Mesut Ozil and Pierre-Emerick Aubameyang combined with finesse and pace.
David Luiz looked like the best version of himself, bringing the ball from the back and using it intelligently. Granit Xhaka played his main role well, but also a secondary role, dutifully covering sead Kolasinac's striker down to the left, allowing Aubameyang to play more than a second striker rather than a left winger. "The first 35 minutes is exactly what I want," Arteta said afterwards.
All these elements combined for their purpose. Luiz pushed forward and fed Lacazette who had dropped deep, opening up space for Aubameyang to slip into the infield and collect a pass from the Frenchman to slip into a terrific finish.
In a strange way, it was a bit reminiscent of what goal Jack Wilshere scored a few years ago against Norwich, as smart passes and smart movies pinged from player to player before Wilshere returned home, in that he felt like if that was the kind of goal Arsène Wenger Arsenal had been workingi ng towards for years: it was the kind of goal that Arteta's Arsenal have been working towards. It will at least be extremely encouraging.
Nor did it reflect particularly well on Unai Emery. While injuries and other assorted factors had an impact on the players he could select, the top four never started the same game and spent a total of 58 minutes together on the field during his 20 games in charge this you season. It was as if he was presented with a puzzle and simply decided that it was too difficult to solve: Arteta instead gave a little thought, realized that he could build his team in a way that could get the best out of them and a now chosen all in the last two Games.
Aubameyang's three-game ban now after his red card to plow Max Meyer's ankle, and the interruption of the burgeoning quartet, will be more damaging than the half-hour they spent with 10 men at Selhurst Park. "It's a blow, you know how important it was for the team," Arteta said. It was the first time an Arsenal player had scored and was sent off in the same match since A certain Mr Arteta, on the same pitch in October 2013.
The red card was not the turning point in the game – Palace had equalised 13 minutes earlier and Arsenal's grip on things had slipped towards the end of the first half – but it was one of the many things that is symptomatic of the biggest task arteta at the club The Mental Block, which has proved so damaging to them for the last few years.
Palace began to get their claws in the game more, putting Arsenal under more pressure and disrupting their game, but the ease with which they eroded control was both alarming and familiar. It was the seventh time this season in all competitions that Arsenal were in the lead at the break but did not win.
"After the break," Arteta said, "we knew they were going to push and put us under pressure, we started giving away a lot of free kicks, something we have to avoid. Then we died for the purpose. We're completely extinct. At this level, if you turn off for two seconds, you will concede a goal right away.
When asked what he needed to do to change the mentality of the team, he said, "I don't know. I will have to find a way to try to avoid these situations. It happened today, and it cost us two points.
Arteta should not be criticized for not knowing. That has been Arsenal's core weakness for so long that it won't solve it in a month. He's probably not going to solve it this season, although there's some encouragement there. Arteta himself commented that he was satisfied with the way the team reacted after the red card, and they were inches away from winning the game when Pepe's shot was brilliantly tilted over the post by Vicente Guaita's fingernails. "That's what I want to see from my team," he said.
But he'll have to see a lot more. All the good work he does with their offensive play, setting up the whole team to get the most out of their best players, will be almost useless until their mentality really changes. There are good signs, but it will take some time. A lot of time, actually.