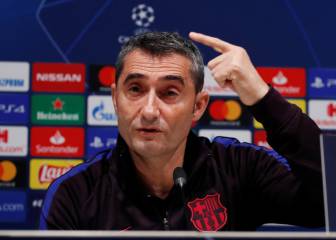 Valverde will receive the Referential Award, which reaches its second edition, awarded by the Bilbao International Football Summit (BIFS & # 39; 20). "The award recognizes his adaptability, influence and competitiveness in different clubs and competitions throughout his long career as a coach," said Mario G. Gurrionero, director of BIFS & # 39; 20.
The Referents Awards came up last year with the goal of value the importance of continuity and progression in sports projects. "We live in a society where fame or popularity often influences the sport's public agenda. What we want with these awards is to mark a space to claim what is beyond the focus of the information. Above the result, what we find very interesting is the process, "says Gurrionero. Then Tottenham Hotspur coach Mauricio Pochettino, sacked a few weeks ago and replaced by Mourinho, received the first Referral Award in a season-end qualifying for the UEFA Champions League final.
On February 13 next year, The noble floor of the San Mamés stadium, home of the upcoming UEFA Euro 2020, to be held next summer in twelve European cities, will host the IV edition of the Bilbao International Football Summit. Like every year, it will bring together a wide variety of football professionals, among which legends Gica Hagi and Gheorghe Popescu have already confirmed. In the coming weeks, the names that will complete the BIFS20 speaker team will be announced. Movistar + commentator Axel Torres will repeat another year as host of the football summit, and Luis Villarejo, director of EFE Deportes, will again act as moderator.
In previous editions, he attracted, among others, references such as Luiz Felipe Scolari, Mauricio Pochettino, Unai Emery, Xabi Alonso, Julen Lopetegui, Bob Martinez, Andoni Zubizarreta, Monchi, Aitor Karanka or André Villas Boas. This company is also the promoter of the Coach Reputation Ranking, the first elite Coach Reputation Observatory.