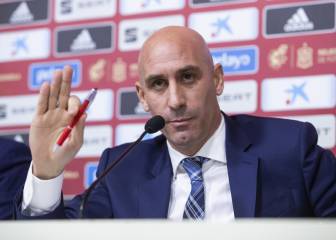 According to information offered this Monday by El País, O Spanish Football Federation (RFEF) faces Spanish Television (TVE) by the public entity's decision not to bid Spanish Super Cup rights who will play Real Madrid, Barcelona, ​​Valencia and Atletico Madrid in Saudi Arabia.
RTVE has decided to Don't bid to avoid the "laundering" of the Saudi Arabian regime. Luis Rubiales, president of the Federation, demands that administrator Rosa María Mateo rectify his "irresponsible performance" and threatens to undertake legal action if rectification does not arrive. Rubiales sent a letter to Mateo in which also points him out as guilty of "dragging" other currents Do not submit offers for the tournament broadcast on television. Atresmedia and Mediaset have confirmed to El País that they will not bid either.
Luis Rubiales points out that "it is evident that RTVE, with its irresponsible attitude, It has damaged reputation and very serious economic damage to RFEF. We cannot understand that during the period of bidding in a mandatory bid by law, RTVE discloses not only that it is not submitted, but also on essentially political grounds that have nothing to do with a business or economic issue. "
From TVE they argue that "Public television has policies to support women's sport and it would be contradictory to bet on a country that restricts women to the option of playing sports."
RFEF urges TVE to change its attitude "towards compensate for damage caused and caused in the future. " TVE has not responded to the president of the Federation and refers to a statement issued on Friday that they say the chain has the discretionary ability to submit to the rights offerings it deems appropriate, according to its programming objectives, its resources or criteria of the Board.