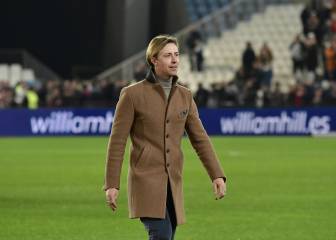 Not everything is sewing and singing in Almeria. The rojiblanco team knew how to change a difficult situation, going back to numerical inferiority and showing a great game. However, five local troops have seen the card and three of them will not be able to act in Fuenlabrada have to comply with the sanction. This is De la Hoz, who saw the direct red when he was sent off by Areces Franco at 19 & Maras and Balliu, who had to take a penalty. Thus, Jose María Gutiérrez has three important casualties in a sensitive line, as is the defense.
Not in vain Of the four headlines that marked yesterday's match against Mirandés, only Iván Martos will repeat Fernando Torres, although he does so as a left-handed center, since Ozornwafor is defenestrated. Jonathan, who yesterday scored a performance for memory, will occupy the left side (Yesterday he did the track work with the 1-5-3-1 that Guti used while playing in numerical inferiority.) For its part, the Spanish-Albanian substitute has a clear candidate, If Romera returns to the property eight days later.
The question is at the other center, as the Madrid coach has no Ozornwafor and, according to sources close to the club, Owona is another candidate to leave the UDA in the winter market, since it is not the taste of rojiblanco coach. Both did not make the list for yesterday's match against Mirandés, where there was only one central.
Like this the question is whether José María Gutiérrez trusts the Cameroonian defender again or postpones Petrovic, which yesterday acted as central in this 1-5-3-1. In the case of the second option, JMG would have to touch the center of the field, where Vada ended up playing, although it seems that his discomfort is not severe. Aguza has also seen a card and is now ready, next to a De la Hoz, which, when it finds the direct red, will return to a yellow cycle.