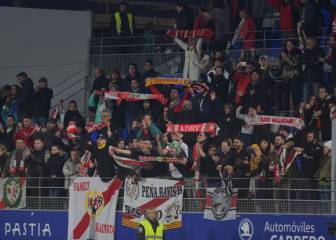 Point and end the conflict that started Rayo Vallecano and Flat Earth last Sunday. At least that guarantees the rayista club the nth release of this story. In it, they confirm that they will not return to accusations from their rivals or want to "advertise anyone". However, the war ax appears buried, despite issuing a press release in which the subsidiary's staff and technical staff wanted to clarify, step by step, Javi Poves's statement.
First, Ray clarifies why Flatland wanted to postpone the game and Poves's concept of "give the players psychological air"The Vallecana entity explains that it offered to advance the game to December 6 and that at no time did it lead to postponing it because it would carry its calendar and therefore, the idea presented by his rival would not be fulfilled. In addition, they report that encouraging messages that the model supposedly sent to the landfill team never existed. "In no case will we allow them to put unsaid words in our mouths or unaccountable actions."They explain.
Rayo Vallecano's explanation ends with what happened later and the intersection of statements. Flatland accuses quarry manager of "inciting violence"while the position in Vallecas was the exact opposite. This is explained by the model: "We have seen and heard how the three representatives of Terra Plana (president, delegate and relative of the president) we swear at our entity and the employees present, which were no more than four people. In any case thirty as he says. "
Finally, he ends this viral conflict: "We cannot be silent when we are mentioned saying things that are not true. From here, we don't want to participate in any media circus or publicize anyone else, which seems to be what some are looking for.. We will not answer anything else, we just want it solved, train and prepare the next game, which is Sunday in Moratalaz. "