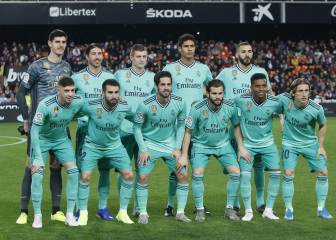 Courtois: In the first half he failed to leave but in the second half he was decisive in stopping hand in hand with Ferran Torres. He left fast, brave and left the Valencian without space. He could do nothing on purpose. Decisive in the last play, with a header that led to Benzema's goal.
Carvajal: Very discreet side performance. It suffered in defense with the incorporation of Gayá to the attack and almost did not appear in attack.
Varane: Quick to cut, annulled Rodrigo and Ferran, two very fast attackers. He didn't clean on Valencia's goal.
Ramos: He barely suffered and was very attentive in the side centers. Good game of the captain.
Nacho: Right in the first act, very gray in the second. He did not close well in the goal of Valencia, which came from his band. This time he did not comply as usual.
Valverde: It is unquestionable. Render where Zidane places it. This time he made Casemiro and made another full date. He came to the area less for his task as a defensive pivot.
Modric: Very good first half, especially in the first half hour, where the game was played at the scheduled pace. In the second half, he fell physically and Madrid accused him.
Kroos: He started the game at a very high level and struck the goal in a front kick. Like the rest, it fell in the second half, but it was still one of the most clear.
Bait: The weakest of the white midfield. It hardly had meaning in the offensive facet. He was replaced by Bale in the second half.
Rodrygo: From more to less. He started very connected, came into play a lot and even asked for a penalty. It was disappearing and in the second half they barely heard from him.
Benzema: He had a very clear chance in the first half that came out very narrowly. Still in a state of grace: he scored in the rebate thanks to a loose ball in the area on the last play of the game.
Vinicius: Irrelevant He threw left and tried, though it posed no danger.
Burden: Little can be said of his 20 minutes in Mestalla. A direct fault that collided with the barrier and nothing more.
Jovic: He played the final minutes. He scored a goal that was annulled for offside.