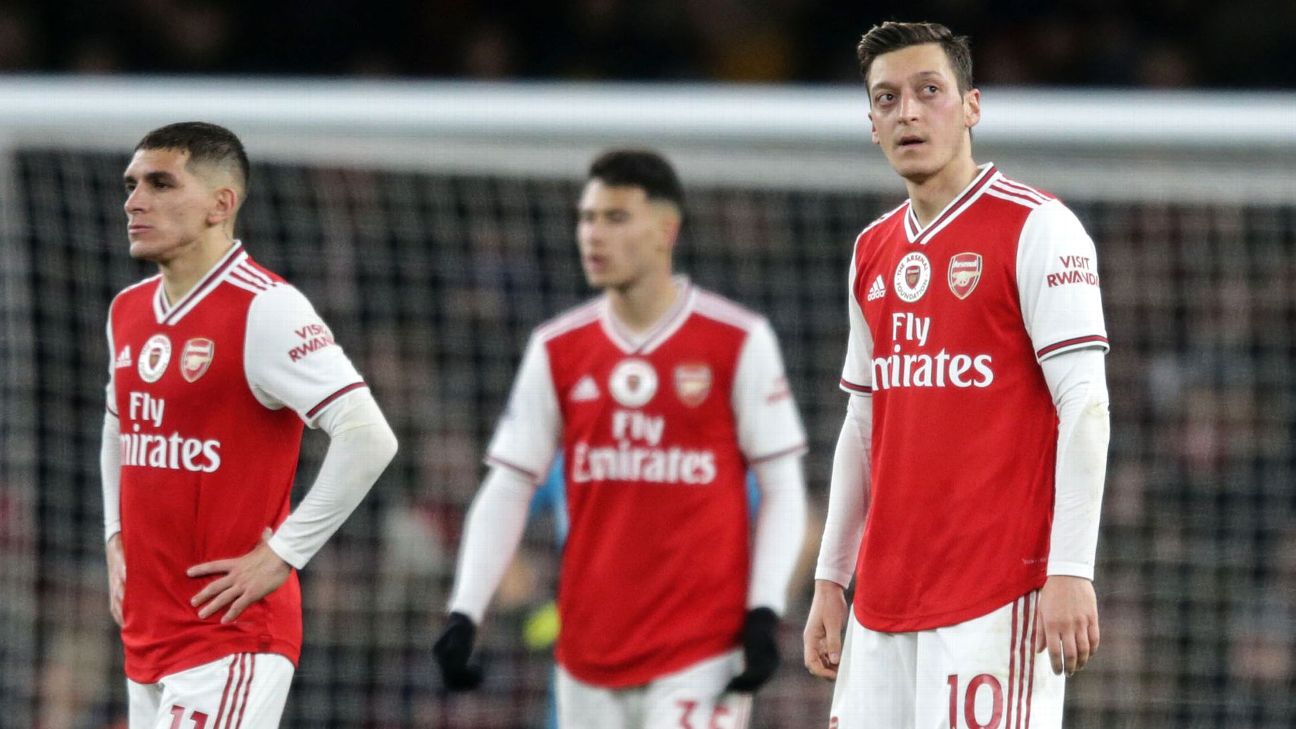 Everything you need to know about this weekend's Premier League action, all in one place.
Jump to: Can Chelsea stop slide vs. Mourinho? | Will Man United show up against Watford? | Man to watch | Game not to miss | Stats of the weekend | Team that needs a bit of luck | One thing that will definitely happen | Predictions
The weekend's big questions
How weird is Everton vs Arsenal going to be?
At the time of writing, neither Carlo Ancelotti nor Mikel Arteta have been confirmed as Everton and Arsenal managers, respectively, but they might be by the time you read this. Yet neither will be in charge as the two sides face each other on Saturday, leading to the curious situation of caretakers Duncan Ferguson and Freddie Ljungberg in the dugouts, both knowing this will be the last game of their temporary spells as managers of clubs they both have plenty of affection for.
Ferguson, especially, and Ljungberg, probably, knew that their time was limited, but there will still be a distinctly weird vibe to this encounter. And you wonder how that will impact the game: will both sets of players be less willing to follow their managers' instructions? Will they have helped an eye on impressing the new boss? Where will their focus be? You would hope they will be all professional, but sometimes that can slip, consciously or otherwise.
Can Chelsea stop their slide against their old boss?
Chelsea's visit to Tottenham on Sunday is absolutely overflowing with narrative, from the basics of two clubs that really don't like each other facing off, to the first Premier League meeting of Jose Mourinho and Frank Lampard as managers. But the brass tacks of this one are that Lampard leads a team that started the season brilliantly, but has now lost four of the last five and will drop out of the top four, in favor of their opponents, should they be defeated in north London.
And on the other side, Mourinho could be about to take his team into the Champions League spots with nine points shy when he arrived a month ago. You get the feeling that this game could be pivotal for the seasons of the two teams involved, and not just because of who the two managers are.
Will Manchester United show up against Watford?
Ole Gunnar Solskjaer celebrated a year in charge of Manchester United on Thursday, and while his record so far is, to say the least, patchy, he's lasted longer than many assumed he would, both when he first arrived and at any number of points since. You can't ignore the many significant flaws in his leadership though, one of which is a curious inability to get the better of theoretically weaker teams, while faring much better against the big boys.
They face one of the former at the weekend, and it's arguably against the weakest team in the division: Watford looked much better against Liverpool last time out, but they're still stone bottom of the table and need something unlikely to happen for them to survive. So if United can't beat them, then what has been an odd quirk in their season will become a serious problem.
Man to Watch
Jamie Vardy
It was their trip to the Etihad that convinced everyone that Leicester were the genuine deal in their title winning season four years ago. They beat City 3-2 that day and the scoreline flamboyantly fluttered the hosts: a similar performance and result this time, on a weekend when Liverpool are otherwise engaged, might provide some evidence that another miracle is possible this season.
And of course all eyes will be on Vardy, who will probably be licking his lips like a salivating lion at the prospect of facing Fernandinho, a fine player who has done a solid job filling in as centre-back, but who has never been fast and getting is slower. Vardy could run riot here.
The game you aren't planning to watch, but should
Brighton vs Sheffield United
It would be something of a stretch to call Chris Wilder and Graham Potter the best two managers in the Premier League, but they're certainly two of the most interesting. These are two bosses who fit their clubs perfectly, who have interesting tactical approaches and who, for different reasons, are always fascinating to listen to. Going by the form book this should be a Sheffield United win. They've lost only one of their last 10 and could go to the brink of the Champions League places with victory here, but it won't be as easy as all that with Brighton playing some fine football. Seek this one out.
Stats of the weekend
Information courtesy of ESPN Stats & Information group.
– Arsenal have won more Premier League games (33) and scored more Premier League goals (107) against Everton than they have against any other side.
– Leicester have won their last four Premier League away games, by an aggregate score of 17-1.
– Manchester United have won 11 of their 12 Premier League meetings with Watford (92%) – only against Wigan (2015/16; 94%) do they have a higher win rate.
– Chelsea have had 53 different Premier League goalscorers against Spurs (excluding own goals), more than any side has had against another.
The team that needs a bit of luck
Watford
You could call it bad luck, you could just call it bad finishing: against Liverpool last week Watford created so many clear chances that they almost had to try hard not to score. Of course, it's difficult to ascribe a team's failure to convert any of those opportunities to poor fortune when they only scored nine goals all season, but luck probably does play a part. They need it pronto, too. No team has ever survived with so few points at this stage of the season, so their luck changes soon, they will be heading down.
One thing that will definitely happen
There will be a curious rash of needless yellow cards
The FA provides a very handy page on their website that lists all of the players who are one booking away from suspension. A quick glance at it ahead of this weekend's fixtures reveals 23 players potentially in action who are currently on four bookings, one away from a ban. Or, to look at it another way, one away from a having Boxing Day off, perhaps able to enjoy Christmas Day like something approximating a normal person. We're not pointing any fingers, but don't be surprised if a few of those players are a little slow in, for example, retreating 10 yards from a free kick this weekend.
Predictions
Everton 2-2 Arsenal
Newcastle United 0-1 Crystal Palace
Norwich 1-2 Wolves
Aston Villa 1-0 Southampton
Bournemouth 0-0 Burnley
Brighton 1-2 Sheffield United
Manchester City 2-2 Leicester City
Watford 0-2 Manchester United
Tottenham Hotspur 3-1 Chelsea