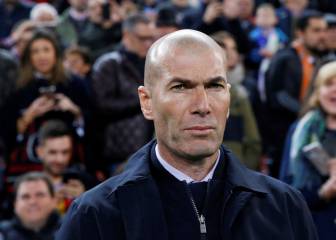 Zinedine Zidane appeared in the flash interview after Benzema's 95th-minute draw. The Real Madrid coach was proud of the team's reaction, although he regretted losing two points. "In the first part we played very, very, very well …" he argued.
The draw: "It's a point that I know little about what we did in the first half. I would like to score the first. It was not possible, but one has to be proud of the game. When in such a difficult field, you get a goal" a few minutes you go down, but we keep thinking that something can be achieved and we did it. "
By the end the team competed: "That's true. Also because it's a tricky field to add. We got it, we got a good result. We might get a little angry because our first half was very, very good, but we missed the goal. That's football. We suffered in the second" part because they got into the game better but we have an important point for what we are doing. We believe until the end and tie with merit. At least we have a point. "
Benzema Goal: "It shows what we are, until the end, we fight, we fight and what we want is to achieve a good result. We don't lower our arms. We got it through the auction of Courtois and Karim. I'm happy for them, because it was a tremendous effort. of all".
He made many changes, but the team replied: "That's good, it means everyone is involved in what we are doing. Now we have to continue because a good game is coming."
Have you booked Casemiro thinking about the classic? "No, because Casemiro played almost every game. He had to rest too and others played."
As expected by Classic: "Look, starting Monday we will think about the game. The classic should be enjoyed."