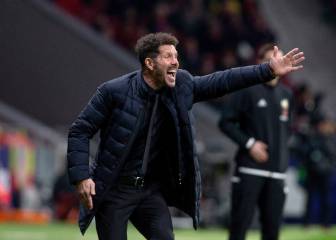 Victory suffered: "Like every league date, we played every game like it was the last. We had to try to win, we needed it. The team reacted after Wednesday's effort."
Better the first part: "I do not speak of merits. Football is an objective matter in the face of the situations it generates. We were lucky to score two goals. The goalkeeper was the best of the rival by far."
Morata Goal: "I hope he comes back as he left us before the break. He is a finisher. There are few auctioneers in football, we have one and we want to take advantage of it."
Manu Sánchez: "I love it. He is a boy who is growing a lot. He has a step forward and a very good view of the game. Juanfran said goodbye today and a boy arrived."
Saul: "Many times they criticize me because I put him on the left back. If he wants to play in many areas of the field. Today he was intense, applied … A national team player, a hierarchical player."
Subsequently, Atletico's coach attended the press in Wanda Metropolitano's press room:
How did you see your team?
We had an important game three days ago and repeating is complex. We didn't start well, but little by little we got into the game. And we had goal situations, which do not vary from other games. In the second half, we found the goal, which gave us the peace of mind to look for the second. The team made a very complete match. Wednesday's effort was very important and we had to win to follow the upside.
Does Atlético have a goal or not?
You are here to have your say and we should work. We are looking for good plays, we made one for João Félix, we also have to talk about Saul's goal, Koke's last … The team is working well and I hope to be able to play a great game in Seville.
What did you think after Saul's goal?
I did not celebrate today's first or both before Lokomotiv. I understood that Saul's goal was driving us to win the game and that is why I celebrated him with the most joy.
Atletico had a good week …
We have to stay in line since we got back from the league stop. We lost to Juventus and Barcelona, ​​but we were close to taking more than we needed. It has been reversed in the Champions League and now we are trying to reorganize in LaLiga, which gives no respite to anyone who moves away from the top positions will have more chances.
Manu Sánchez played from the start and showed great level …
He works very well in B, the coaches are doing a great job … Manu arrived preseason, we told him at half past six that he would play and hang up the phone. The game started from the smallest to the largest and gave us the option of knowing that there is a boy with great offensive power. We will help you grow.
How much anxiety did Atlético remove with these goals and with this victory?
Logic is necessary when you win, like everything else in life.
In Pamplona, ​​they are concerned that Atletico likes Chimy Avila …
He is a typical player of Osasuna, a strong and strong team, has shown that he has competed again and remains in the category. He is a hardworking boy, always shows help. We like it, of course. He is doing very well. But I would like to talk about Juanfran, he came to greet us and with his presence we won again. He gave a lot to Atletico's history.
How did you see the pair of strikers?
João Félix shows danger, dizziness and has been playing regularly, comes several games being better. I wish I had more gas at the end, maybe I had to run less during the game.