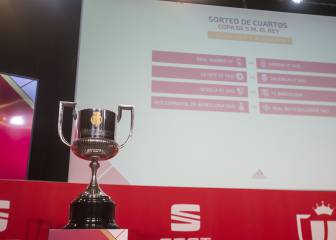 Next Sunday, November 17th the first eraser pairs of the new will be known Copa del Rey, where First Division teams enter (except Madrid, Barcelona, ​​Valencia and Atletico, who play the Super Cup). It will be at 12:30, as announced by the Spanish Football Federation. A total of 111 teams (Reus is excluded by decision of the competition judge) will play in the first round of the competition, which will be played in a single game on December 17, 18 and 19.
The format of the draw will be as follows:
There will be 5 drums: Pot 1 (10 champions from previous draw), hype 2 (First 16 clubs. Remember that teams competing for the Spanish Super Cup are excluded from this round and the next) kick 3 (21 third clubs and 4 semi-finalists of the RFEF Cup), hype 4 (22-second teams) and hype 5 (38 teams from Second B)
Matches between the ten champions (Bombo 1) of the previous draw (played on Wednesday, November 12) with 10 other First Division teams (Bombo 2). The remaining 6 Queen category teams will be included in the hype with the 22 Second Division teams.
Then the kick drum 3 teams will be paired with the kick 4 teams (second and 6 remaining clubs from the first). From here, there are 3 teams left that will face three of the 38 teams from Segundo B (Bombo 5). Finally, the remaining 35 teams from hype 5, which make up the Second B clubs, will match. As it is strange, a set will be left, which will be exempt from this first round.
Round two will be drawn on December 20th
The Federation also announced the date of the draw for the second draw (will be held on January 11 and 12). We will know the games of the second round next Friday, December 20th.